HVAC: Central Heating and Air Conditioning Repair and Installation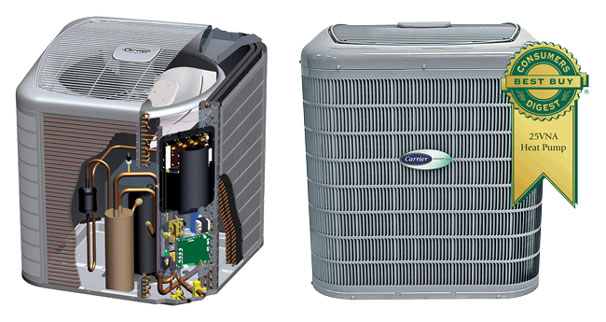 Save now on a Carrier Infinity Series Air Conditioner. Financing is available.
Choose Amtech Mechanical for expert central heating repair and installation in Georgetown. Amtech Mechanical is professionally trained and known as the Home Comfort Specialists. They are an authorized Carrier dealer.
We all brace ourselves for the high temperatures we know are coming to Georgetown. Proper maintenance of your air conditioning system will have you prepared when the worst of summer heat gets here.
Sometimes when your HVAC is failing to keep your house comfortable, you may need another unit. However, before considering such an expensive proposition, check to see if your problem might be leakage. Often, instead of your system slowing, leakage has begun. When we check an AC or heating problem, we check the entire system, including the house.
When you ask an HVAC technician if they think you need a bigger system, guess what? Most will agree with you. Selling you a new and larger HVAC system is within their scope of expertise (plus good for their company profit). Before deciding you need a new or bigger system, call us for an evaluation.
At Amtech Mechanical, we are here for the long haul. With our extended training, we can determine the actual reason your HVAC system is not keeping your home warm or cool. We like to say, "We install the best and repair the rest!" If your system can be repaired at a reasonable price, we will repair it. If it needs to be replaced, we will give you the facts to make that decision.
Leakage is not ventilation!
Installing a new HVAC
Installing a new HVAC system is a big investment. We are dealers for Carrier, Rheem, Ruud, and Mitshubishi Mini-splits. Before making a hasty decision, get the facts and make an informed decision. It is your house and your money. It should also be your decision. Once you have the facts, making the correct decision is easy.
If you do need a new system, we recommend Carrier air conditioners and heaters (after all, they invented air conditioning). We also install Rheem and Ruud systems which are popular in Georgetown and Round Rock, and Goodman and Amana, which a few customers prefer.
Lately there has been a lot of interest in Mitshubishi mini-splits. They have advantages in many situations. If your system is getting old or causing problems, let us check it out. We will explain your situation to you and if a new unit is called for, we will be happy to go over the advantages and disadvantages of each system.
For HVAC Repair and Installation in Georgetown area
You will not find a more dependable, reliable, trustworthy company in the Georgetown/Round Rock area. From Heating repair and installation work to Air Conditioning repair and installation, our hardworking team is ready and willing to give you fast, dependable service.
We specialize in:
We are dedicated To your Health and Comfort
We will work with you and your HVAC problems to find a solution that meets your budget. You see, our customers in Round Rock and Georgetown are also our neighbors. We work with pride to do a job to your satisfaction. Having you a customer for life is the driving force behind every job we do.
We value your time
Unlike so many HVAC companies in Georgetown, we respect the value of your time. We will be on time and work hard to make sure you are a satisfied customer.
One Call To AmTech Can Make All The Difference
You need an HVAC contractor you can count on. In Georgetown, Amtech Mechanical LLC has the training, competitive prices, and track record to see you through any heating and air conditioner issues.
We service Georgetown, Jarrell, Round Rock and the surrounding communities.